How can I deal with special dietary requirements at my wedding or event?
I wanted to write a bit about how you can deal with guests' dietary requirements when you're thinking about choosing your menu.
It's a subject we feel really passionate about – for lots of reasons. Our son is peanut-allergic and we know the anxiety that allergies can create when eating out somewhere new.
The other big reason is that we love feeding everybody incredible food. And we mean everybody in an inclusive way.
With every event, we take care to be aware from the start about what restrictions there might be on what you or your guests can eat. Very often we'll design an entire menu around a vegan, coeliac or dairy allergic guest and we'll do it in a really subtle and discreet way so the other guests would never know that there's absolutely no dairy in any of the sharing boards, for example. Or omnivores not minding in the slightest that all the canapés are vegan because they're all so damn interesting and delicious.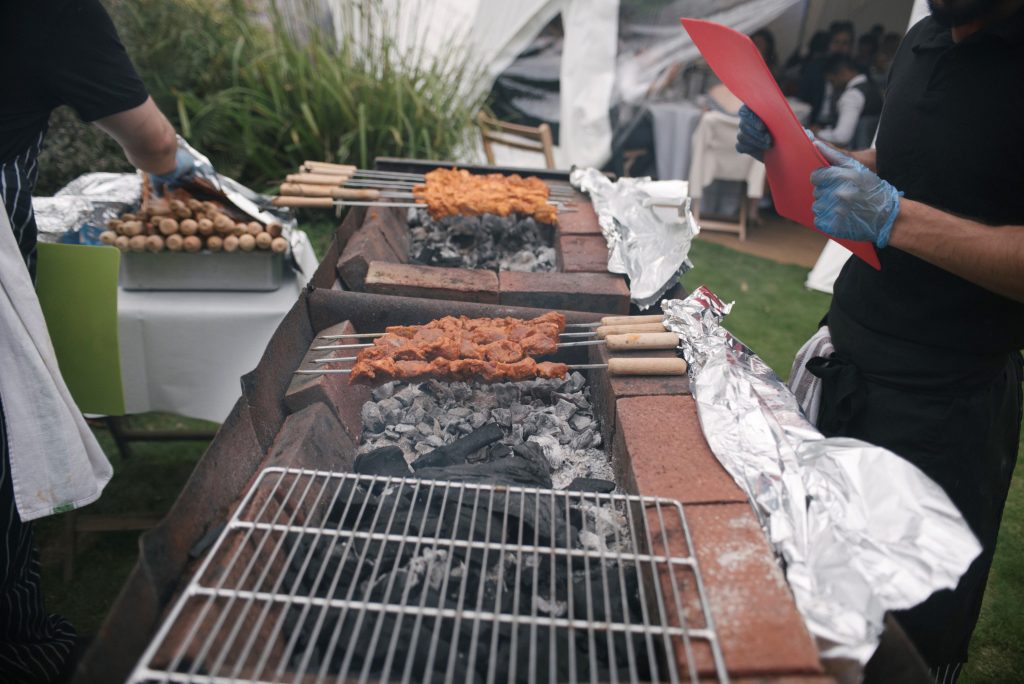 Of course if someone wants a completely separate plate of something that's fine too and we'll make sure that it goes with the culinary theme and is just as interesting and appealing.
If you're putting your guest list together, we'd advise that you ask about dietary restrictions with the RSVP. However there will often be a guest who tells you a couple of weeks before the event that they have a particular requirement. This is absolutely not a problem and we'll always come up with a creative solution. But if you're ever unsure of anything – just ask. There's a perception that caterers find dietary issues an annoyance – not us!
All of our chefs are allergy trained, empathetic and highly adaptable. We've taken kitchen equipment to pieces to deep clean to ensure no trace of allergens. We've sourced allergen-free brands and work with allergy-aware produce suppliers. We make sure we're up to date on the latest research and awareness. We make sure we're putting as much effort into creating vegan and vegetarian options as for anything with meat or fish.
So when a bride told us how much it meant to her that she could eat absolutely anything at her wedding feast because it was guaranteed to be free of what she had to avoid, it made our day.
If you're planning a wedding or event in Bristol, Bath, The Cotswolds, Somerset or Gloucestershire and you'd like some tips on how you can incorporate dietary restrictions into your menu, drop us an email and we'd be really happy to talk it through.