Planning the food at your marquee wedding
A marquee reception on private land is one of the most flexible options for your wedding day. Here at Queen and Whippet we're marquee catering experts. We've been putting on a feasts in fields across Somerset and The Cotswolds for many years and love guiding our clients through the process. Pete has over twenty years' experience in location catering and Jo's background is in event management and music festivals, so we all know our way around a marquee!
Marquees can give you the freedom to have the elements of your day exactly as you want them. It can, however, seem daunting to start from a blank canvas so here are our expert tips when considering your catering.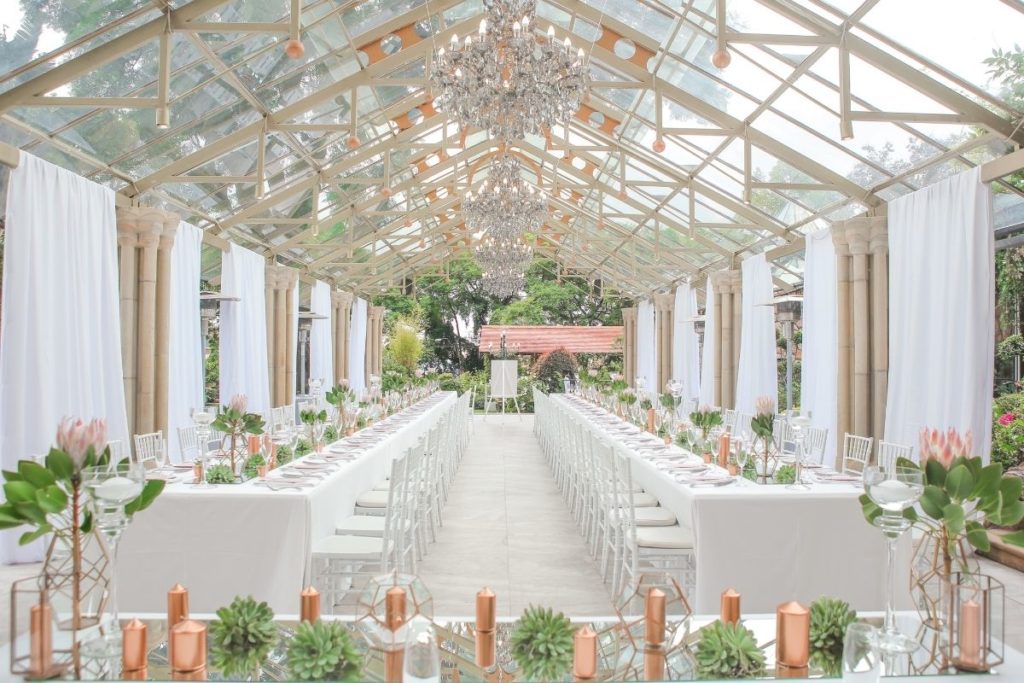 How much space do I need inside for eating at my marquee wedding?
We work with some brilliant marquee companies who will advise on layout and internal space. In your discussions with them, consider your catering ideas.
If your wedding reception includes canapés, the dream is to have them served out in the sunshine. But even in a West Country summer you'll need a wet weather contingency plan. Is there enough space inside the marquee for all the guests to mingle inside for a standing service of canapés and drinks?
If you've ever been sat at a table and squashed in by the person sat behind you, you'll understand how important table spacing is. You'll need your layout to include what's known as 'service seating', which allows at least 1.5 metres between tables. This creates a 70cm corridor behind chairs for waiting staff to serve and clear.
Thinking about a buffet or grazing table? These set-ups require additional space for guest traffic. Our suggestion to prevent long queues is to allow space for a few separate buffet stations around the marquee.
These suggestions don't take any extra Covid-19 social distancing requirements into consideration.  If your wedding will be affected by this, we and your marquee company will ensure that all spacing regulations are being followed. At the time of writing in February 2021 we don't know yet how long distancing will impact events but we'll work with whatever safety restrictions might be in place.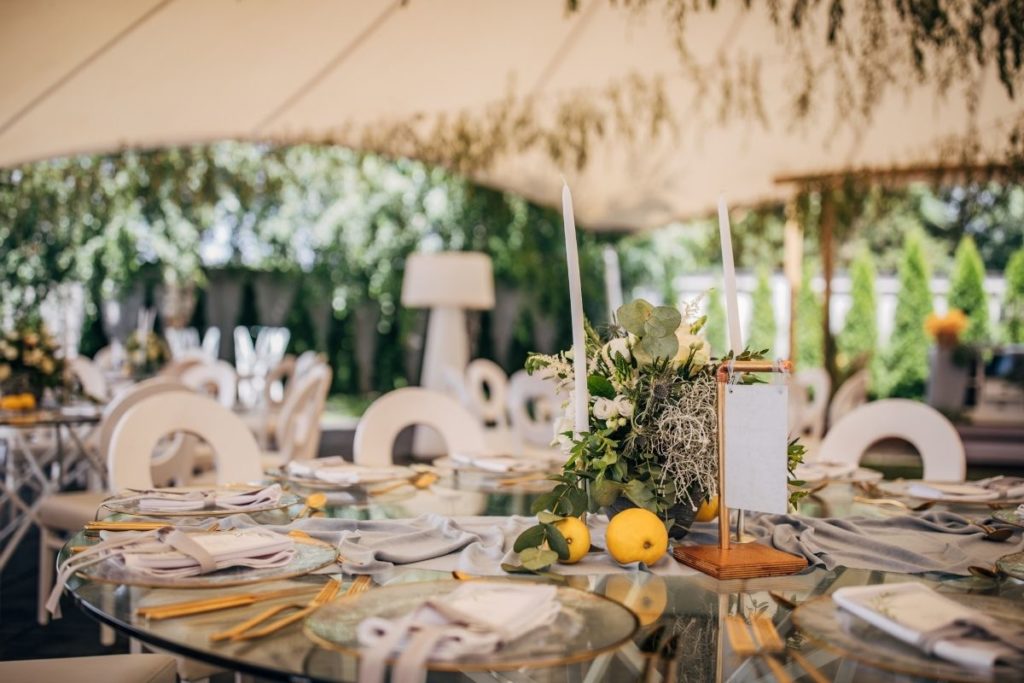 Considering additional structures.
Your marquee company will help you optimise the main space for your guests. However, don't forget to work with them to consider what other structures you might need. Us caterers will need a tent of course, but what else is happening during the day?
If you have a band playing you might need a dressing room or 'green room' for them. They will need a separate, secure space to eat, prepare for their set, and store kit.
Are you planning a reset of the space after eating? Consider whether you need a basic storage tent to keep cleared furniture. They also come in really useful for storing bar stock and other items you don't want on show.
Would your guests benefit from a chill-out space? The main marquee can get very busy and noisy, especially later on. Older guests especially appreciate having a quieter area away from the PA system. We often recommend setting up a tea and coffee station in a separate tent with low music and plentiful, comfortable seating.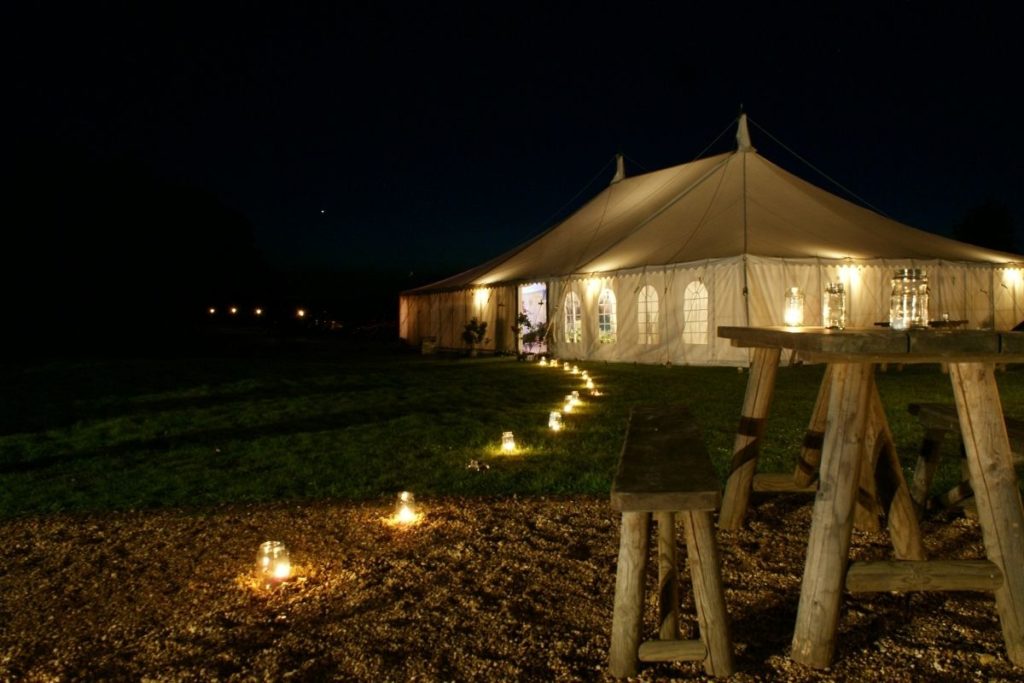 What size catering tent do I need?
The catering tent size will depend on your guest numbers and service style, but the standards are 6×3 metres, 5×5 or 6×6 metres. As a rough guide, for 150 guests having canapés and a three-course hot plated meal we'd ask for a 6×6 metre tent, if possible. Your caterer will have a preference, but we like square tents for optimum traffic flow around the area.
We'll work with the marquee company to ensure we have the power and lighting requirements that we need.
If you need event or wedding catering in the West Country and fancy a no-obligation conversation about your  ideas you can get in touch here – we always love a chat!